React Native Taxi App With Backend
[Developer edition]
v 7.2.0
Build your own Taxi Booking App using our React Native based starter kit with iOS & Android support. Ready to use screens with backend integration. Highly aimed for saving development time to build taxi booking app just like Uber / Ola / Lyft.

It offers Rider App, Driver App and Admin Dashboard.
Go through our detailed Product Page

Note: This product is a pure React Native application.
Along with fully customizable, ready to use screens, we have the following functional features for drivers.
Logged in drivers shown on map
User details for specific customer
Mobile Appconfig that can be used by MobileApp(Rider&Driver)
List of ongoing trips
Recent review from rider to driver is shown
Driver and rider list and their respective trip details
Email and SMS configuration along with approval system
Hassle free commission management for drivers via admin dashboard.
Set different commission rates for different group of drivers, allows to check and change it anytime.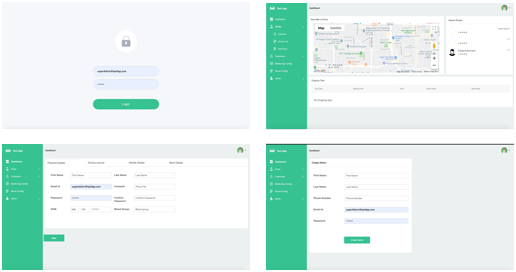 Backend With Strong Technologies
Application Program Interface (API) Server
NodeJS
MongoDB
SocketIo
ExpressJS
Stripe
Twillio
Nodemailer
Driver App/Rider App
React Native
NativeBase
Redux
Redux-persist
Redux-Logger
Socket.io
Sentry.io
Web Dashboard
React
Redux
React-Bootstrap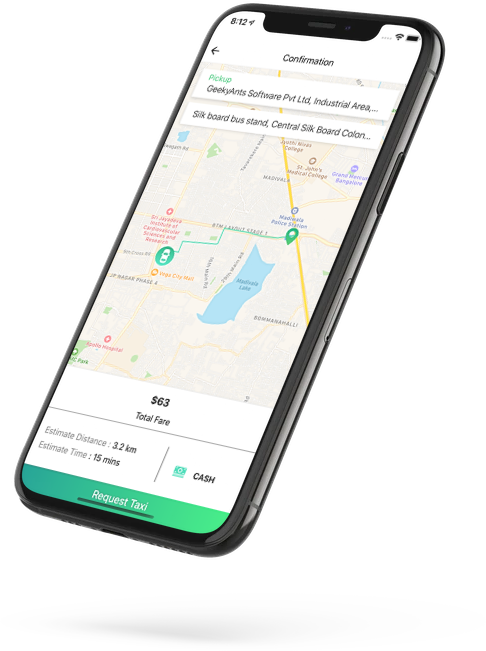 Rider App
Functional features in rider app:
Social Login via Facebook & Google
Nearby drivers shown on map
Pickup location can be set on map
Autosuggest Feature for location
Fare Estimation
Payment Gateway(Stripe)
Push notification: EnRoute / Arriving / Arrived status shown based on distance of driver
Driver moving car shown on rider's screen
Rider can cancel trip before trip started by driver
Contact information, name, rating of driver shown to rider
Able to store and show trip history
Ride request from rider goes to nearby drivers only
Ride request can be sent to multiple drivers incase one nearby driver rejects or does not respond to the request
Location updates of driver received when driver is moving .
Rider can provide rating and feedback review to driver after trip
Rider receives Email on registration, forgot password , end trip status and ride accept status
Rider receives SMS on end trip and ride accept status
Rider can add emergency contact, 'Home' & 'Work' address
Allows riders to schedule trip in advance as per preferred time, date & convenience
Driver App
Functional features in driver app:
Social Login via Facebook & Google
EnRoute / Arriving / Arrived status shown based on distance of rider
Cancellation of ride any time from driver
Contact info, name, rating etc. of rider shown to driver
Driver can start and end trip
Driver can provide rating and feedback review to rider after trip
Push notification: On no-nearby / enRoute / arriving / arrived notification showed on phone
Driver can add emergency contact, 'Home' & 'Work' address
Driver can use Google Maps for navigation
Driver needs to update car, bank & license details at time of registration
Driver can set his availability as available or not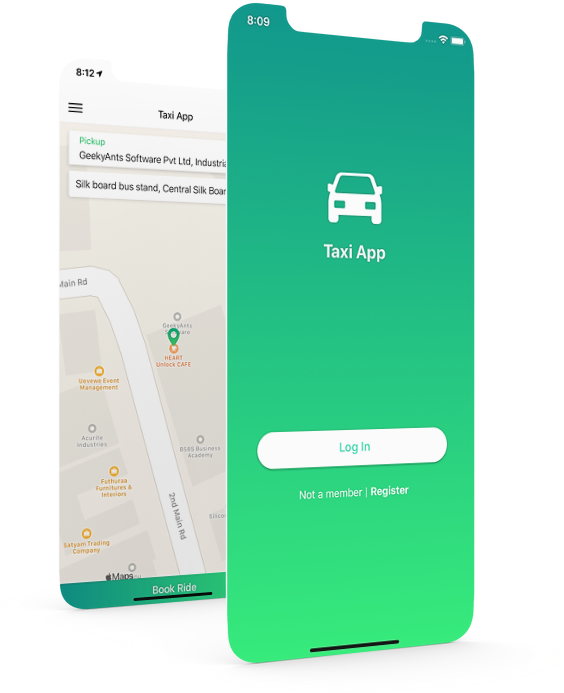 Note
Installation on your system can be carried out at an additional cost. The turn around time is usually less than 2 working days.
We provide deployment on the following systems:
Pre-requisites:
Must have an account on one of the mentioned platforms.
You need to have your root SSH or other server details available with you before contacting us.
Recommended OS: macOS and Linux (Redhat, CentOS & Ubuntu) only.
Complete package!
Driver App, Rider App and Admin Dashboard: all with fully customizable, ready-to-use screens and a rich collection of UI elements specifically for an ideal taxi booking / passenger app like Uber / Ola / Lyft
Package
Taxi App with backend
● @mapbox/polyline: ^1.1.0
● @react-native-community/datetimepicker: ^2.3.2
● @react-native-community/geolocation: ^2.0.2
● @react-native-community/netinfo: ^4.1.5
● color: ^3.1.2
● lodash: ^4.17.15
● moment: ^2.24.0
● prop-types: ^15.7.2
● react: 16.8.6
● react-native-communications: ^2.2.1
● react-native-country-picker-modal: ^0.8.0
● react-native-credit-card-input: ^0.4.1
● react-native-date-picker: ^2.7.9
● react-native-datepicker: ^1.7.2
● react-native-fbsdk: ^1.0.2
● react-native-gesture-handler: ^1.5.3
● react-native-google-signin: ^2.0.0
● react-native-image-picker: ^1.0.2
● react-native-linear-gradient: ^2.5.6
● react-native-maps: 0.25.0
● react-native-modal: ^11.5.6
● react-native-onesignal: 3.3.2
● react-native-reanimated: ^1.7.0
● react-native-router-flux: ^4.0.6
● react-native-safe-area-context: ^0.6.1
● react-native-safe-area-view: ^1.0.0
● react-native-screens: ^2.0.0-beta.2
● react-native-sentry: ^0.43.2
● react-native-simple-toast: ^1.1.2
● react-native-splash-screen: ^3.2.0
● react-native-vector-icons: ^6.6.0
● react-redux: ^7.1.1
● redux-form: ^8.2.6
● redux-logger: ^3.0.6
● redux-persist: ^5.10.0
● redux-thunk: ^2.3.0
● socket.io-client: ^2.2.0
● whatwg-fetch: ^3.0.0
● @babel/core: ^7.5.5
● @babel/runtime: ^7.5.5
● @react-native-community/eslint-config: ^0.0.5
● babel-eslint: ^10.0.3
● babel-jest: ^24.9.0
● eslint-plugin-prettier: ^3.1.0
● eslint-plugin-react: ^7.14.3
● eslint-plugin-react-native: ^3.7.0
● husky: ^3.0.5
● jest: ^24.9.0
● metro-react-native-babel-preset: ^0.56.0
● prettier: ^1.18.2
● pretty-quick: ^1.11.1
● react-test-renderer: 16.8.6